The Greater Phoenix Chamber Foundation (Foundation) is launching a new education initiative, ElevateEdAZ, bridging the gap between business and education. Learn more about what ElevateEdAZ is and the team leading it forward.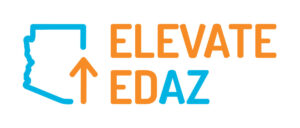 What is ElevateEdAZ?
ElevateEdAZ prepares Arizona's students for college, career, and citizenship through stronger alignment between education, business, and the community. Through curated business to school connections, employers will more closely engage with schools by aligning classes and curriculum with workforce needs, increasing student exposure to career pathways, and creating opportunities for students to apply academics through work-based learning (WBL).
ElevateEdAZ will pilot business connectivity through a partnership with the Phoenix Union High School District (PXU). PXU recently transformed one of their larger comprehensive campuses, South Mountain High School, into learning pathways, offering industry-based schools within the larger campus: Science and Technology, Media Arts and Design, and Public and Social Service.
Through WBL, businesses can influence a generation of students, helping them to not only graduate high school, but graduate on a path toward a high-wage career or an aligned, high-quality degree program.
Work-Based Learning opportunities include:
Guest Speakers and Instructors
Teacher Externships
Curriculum Development
Job Shadowing
Field Trips
Mock Interviews
Student Internships
Industry Certification Exam Tutors
Who makes up the ElevateEdAZ team?
ElevateEdAZ is staffed by Kimberly Vegliante and Kaycie Quinonez. Both are former teachers and have extensive public service experience. Prior to teaching high school history and government in Virginia, Kim traveled around the country with AmeriCorps National Civilian Community Corps. Kim has been with the Foundation team for nearly two years and was formerly a Workforce Development Manager for the Foundation. Kaycie taught third and seventh grade mathematics as a Teach for America Corps Member in Texas. Kaycie joined the Foundation team in May 2020. On the weekends, you can find Kim hiking with her dog and Kaycie watching baseball and kickboxing.
As ElevateEdAZ's Education Partnership Manager, Kim is working with Foundation partners to develop relationships with employers, onboard them as ElevateEdAZ supporters, and prepare them to work with students and teachers. As the College and Career Coach, Kaycie will be embedded on South Mountain's campus, identifying ways employers can enhance the student and teacher experience, as well as helping students engage with professionals from the business community. Kim and Kaycie are working together to match employers with classrooms to provide relevant work-based learning opportunities, ultimately leading to a more equipped workforce for Arizona.
Join ElevateEdAZ as a business partner!
ElevateEdAZ is seeking businesses to participate in the pilot with the Academies at South Mountain by providing fall internships or teacher externships. Interested in getting involved? Contact Kimberly Vegliante to learn more at [email protected]. займы на карту
unshaven girls платиза займмикроклад займманимен займ быстрый займ на вебманизайм денег за 5 минутзайм эксперсс быстрый онлайн займзайм на киви кошелек без картызаймиго займ