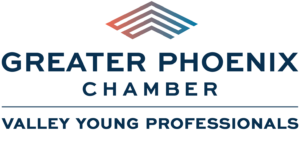 MEDIA CONTACT:
Lindsay Hansen
PR Consultant
(C): 480.205.6195
[email protected]
FOR IMMEDIATE RELEASE:
Phoenix (June 7, 2023) – The Greater Phoenix Chamber (the Chamber) has appointed six new members to its Valley Young Professionals (VYP) Board of Directors. VYP, a program of the Greater Phoenix Chamber, is for Valley-area professionals ages 25-39 and aims to create the next generation of Phoenix leaders by connecting, informing, and educating its members on important issues facing the local community.
The VYP Board is responsible for overseeing VYP programming, including identifying relevant content, impactful speakers, new event venues, and community partnerships.
New board members will begin their terms on July 1, 2023. The six young professionals joining the VYP Board this year are:
Marcus Benally, Audit & Assurance Manager, REDW LLC
Jazmine Cole, Associate Chief of Staff, evolvedMD
Tango Edwards, Sales Executive, Slalom Consulting
Ethan Hoover, Marketing Outreach Coordinator, Arizona Theatre Company
Lukas Landolt, Attorney, Squire Patton Boggs LLP
Breanna Naegeli, Dean, Honors College, Grand Canyon University
Now in its 13th year, the VYP Board of Directors manages a strong program to retain and attract young professionals to the Greater Phoenix area by connecting them to the community.
"The Chamber's VYP program is a catalyst for growth and success through reinforcing the region's workforce development and talent retention," said Todd Sanders, president and CEO of the Greater Phoenix Chamber. "We are proud to add these impactful leaders to the VYP Board to empower the next generation of leaders and guide us in new ways by providing meaningful opportunities for Greater Phoenix's young leaders to learn about our community, connect, and grow their leadership skills."
The new board members will bring unique and diverse perspectives that will help carry out the VYP mission to build lasting relationships, establish professional development opportunities and act as a catalyst for change in the community.
For more information about Valley Young Professionals, visit www.phoenixchamber.com/vyp
or contact Ashley Caronna at [email protected].
###
About the Greater Phoenix Chamber
Representing 2,400 businesses across the Greater Phoenix region, the Greater Phoenix Chamber promotes regional prosperity by serving as a catalyst for economic vitality and strong communities. The Chamber pursues this mission by collaborating with business, political and community leaders to grow the regional talent pool, create a regional approach to economic development, and drive a pro-Arizona agenda.
FOLLOW ONLINE:
@phxchamber
facebook.com/phxchamber
facebook.com/PHXVYP
Learn more:
www.phoenixchamber.com
[email protected]
602.495.2195