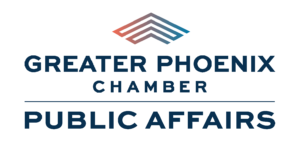 MEDIA CONTACT:
Lindsay Hansen
PR Consultant
(C): 480.205.6195
[email protected]
FOR IMMEDIATE RELEASE:
June 8, 2023
PHOENIX – The Greater Phoenix Chamber proudly supports the 2023 $500 million General Obligation (GO) Bond program to revitalize and improve the city's infrastructure and services. We applaud the implementation of the program without raising tax rates. Typically, GO Bond principal and interest payments are backed by secondary property taxes.
Phoenix City Council approved the GO Bond recommendations for a citywide election on November 7, 2023. The last bond issuance for the city was in 2006.
This transformative initiative represents a significant commitment to the future of Phoenix and its residents by investing in public safety and economic development. Recognizing the importance of public safety, the bond program will allocate funds to upgrade and modernize public safety facilities, equip first responders with state-of-the-art technology, and bolster emergency response capabilities. The funding will ensure the continued safety and well-being of Phoenix residents and visitors while enhancing the quality of life by investing in the city's libraries, parks, streets  and economic development activities.
Approved areas of projects with corresponding dollar amounts are as follows:
Arts and Culture (10%) $50,385,000
Economic Development & Education (7%) $38,000,000
Environment & Sustainability (5%) $26,000,000
Housing, Human Services & Homelessness (13%) $63,000,000
Neighborhoods & City Services (9%) $44,615,000
Parks & Recreation (13%) $64,000,000
Public Safety (27%) $132,500,000
Streets & Storm Drainage (16%) $81,500,000
"The Chamber encourages residents and stakeholders to actively participate in the process by providing feedback and suggestions throughout the implementation of the bond program," says Todd Sanders, president and CEO of the Greater Phoenix Chamber. "By working together, Phoenix can continue to grow as a vibrant and inclusive city that meets the evolving needs of its residents and businesses."
Voters will decide whether or not to adopt the GO Bond Program in a Special Election this November. By voting yes, we will keep Phoenix at the forefront of innovation and sustain our growing economy and infrastructure needs. For more information on the General Obligation Bond program and to stay updated on its progress, please visit www.phoenix.gov/bond.
###
About the Greater Phoenix Chamber
Representing 2,400 businesses across the Greater Phoenix region, the Greater Phoenix Chamber promotes regional prosperity by serving as a catalyst for economic vitality and strong communities. The Chamber pursues this mission by collaborating with business, political, and community leaders to grow the regional talent pool, create a regional approach to economic development, and drive a pro-Arizona agenda.   
Follow online:
Learn more:
602.495.2195