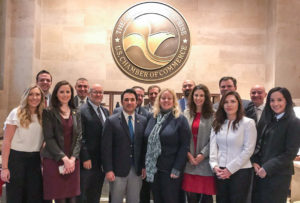 The 2017 GPCC Executive Dialogue delegation arrived in Washington D.C. during a critical time to be aware of the changes occurring within the federal government.
The Chamber delegation represented Arizona's business community and shared their stories with law and policy-makers. In each meeting, the delegation advocated for pro-business policies that support economic growth in the region.
Key 2018 Issues:
Tax Reform, working toward modernization
The Chamber delegation arrived in Washington D.C. during a pivotal time in tax reform, as both the U.S. House and Senate were avidly discussing and preparing to vote on potential tax reform packages.
Today's tax code is older than most millennials. It is out of date and no longer reflects the realities of growing and changing economic needs. It was with this mindset that the Congressional House of Representatives voted and passed a bill that would make significant changes to the U.S. tax code. This bill is still completing the legislative process and is far from the finish line, but the conversations surrounding tax reform are promising.
The Chamber supports a comprehensive tax reform, prioritizing pro-growth tax modifications that will create jobs, spur economic growth, and make tax season simpler for American families.
Tax reform is not an easy issue, but it's important that the Chamber and the business community support work to bring the tax code into the 21st century and encourage efforts that create jobs and facilitate growth.
Health care reform and how it could impact business
Health care reform has been a hot topic. In 2013, the Chamber supported Medicaid expansion for the financial well-being of the state. However, the Chamber's Public Affairs Committee recognizes the importance and need for health care reform. Especially since the health insurance tax (HIT) has been particularly hard on small business.
During discussions with Arizona's congressional representatives, Congressman Paul Gosar (R, D-4) discussed possible solutions for the impending healthcare debate, suggesting that a marketplace healthcare industry may empower patients financially.
The Chamber advocates for a free-market based health care system that offers affordable, cost-effective and quality health care options to businesses and individuals.
Immigration and the case for common-sense reform
In the delegation's conversations with lawmakers and agency directors in Washington, D.C., immigration was a key topic. In general, the Chamber supports comprehensive immigration reform that enables employers to grow their businesses. Immigration reform will do more than just benefit Arizona; it will benefit the entire country. Immigration and border control are complex issues that continue to impact Arizona businesses every day.
Included in the immigration narrative is the volatility of the DACA program. In September President Trump announced the move to end DACA. In conversations with the Chamber, Congresswoman Kyrsten Sinema (D, D-9), said "Eliminating DACA is like exporting all the money you just invested."
The Chamber supports solutions that will enable more than 28,000 DACA students and graduates to stay to work in and for Arizona.  During meetings, Senator Jeff Flake (R), said "We're hopeful that we have a formula to get both Republicans and Democrats on board with DACA."
Infrastructure and building a strong foundation for tomorrow
The United States is a young country. Arizona is a younger state. Phoenix is an even younger city. Despite this though, infrastructure investment and maintenance is still needed to ensure that individuals and businesses can safely and effectively do business day in and day out.
One potential solution, according to those at the federal level, for resolving funding gaps is to prioritize public and private partnerships, and other alternative financing methods.
Federal leaders also encourage states to pursue other financing methods to aid in funding infrastructure overhauls.
Now is the time for businesses and states to ensure that the federal government prioritizes infrastructure investment—economic growth is dependent on roads, airports and other ports of entry. The Chamber supports transportation investments that will improve mobility and contribute to economic development, environmental quality, and jobs.
Trade and the future of Arizona's economy
In a global economy, trade and trade agreements are necessary measures that can help Arizona grow in a smart way that works for individuals and business. Since President Trump took office, there has been a robust discussion about the right path forward surrounding international trade deals, specifically regarding NAFTA.
Senator Jeff Flake (R) said, "Multilateral trade deals are the norm within the global market. Without NAFTA, we take a big risk with our economy."
Most U.S. economists agree that an outright withdrawal from NAFTA would be toxic to the U.S. economy. Small businesses, and specifically the agriculture industry, have urged for the protection and continuation of NAFTA.
In Arizona, NAFTA has been instrumental in the success of small business. For instance, our state has a trade surplus with Mexico, exporting 9.1 billion in goods and importing only 7.6 billion.
During all of the issue based discussions, it became clear that there is one issue that is central to every proposed policy change and that is the ability of lawmakers to work together to move the economy forward. Congressman Tom O'Halleran (D, D-1) advocated for unity and increased communication across party lines. Both unity and increased communication would support the work at the capital and help develop bipartisan legislation that focuses on economic growth and fostering prosperous communities.
-Written by Jen Springman, Public Affairs Coordinator
-Written by Miranda Cain-Morton, Community Relations Coordinator займ онлайн
hairy girl займ платизазайм через систему контакт без отказовсрочный займ на киви кошелек от частных лиц у петровича займ отзывызайм онлайн на банковскую картубыстрый займ без паспорта займ под расписку в москвезайм моментальныйзайм оформить