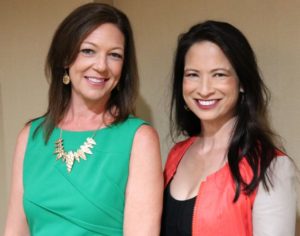 On June 12, 2017, ATHENA Award recipients Michelle Just (Public Sector recipient, Beatitudes Campus) and Mi-Ai Parrish (Private Sector, MAP Strategies Group), took the stage at the Professional Women's Alliance luncheon to discuss their experience as ATHENAs.
The Greater Phoenix Chamber's ATHENA Awards program recognizes and celebrates the achievements of businesswomen across the Greater Phoenix region. The ATHENA Award, an internationally prized honor, recognizes women who demonstrate excellence in professional leadership, community service, and mentorship of future leaders.
These top Valley businesswomen shared their experiences and thoughts on ATHENA's key pillars—leadership, mentorship, and community service.
Leadership
"My style has always been to be a successful leader so that those around me can succeed," said Parrish.
Just added that she thought one key thing to know as a leader is that it's okay to not have every answer.
"I learned at a very young age to not be afraid to hire people that are smarter than you," said Just. "You're not going to know it all, you're never going to know it all."
Mentorship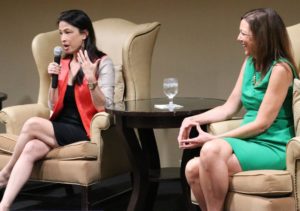 On mentorship, Parrish cautioned attendees to be thoughtful and Just shared her insights on her most meaningful experiences.
"If you ask someone to be your mentor, don't do that lightly," said Parrish. "Their time and your time is valuable and you need to be mindful of that.
Just shared her experiences and expressed that her most valuable mentorships challenged her thought process and helped her to work through her own internal dialogue.
Community Service
On community service, both Parrish and Just believe in finding your passion.
"If you get invited to different events, pay attention to the message," said Just. "And if your heartstrings are being pulled, take notice. Find what drives your passion and get involved."
And Parrish encouraged attendees to get creative and to get involved.
"Find a way to contribute and share the message of an organization that you're passionate about," said Parrish.
During the fireside chat, both Just and Parrish gave advice to attendees on how to navigate a career and take leaps of faith. Their key message was to not be afraid of new challenges or opportunities that you feel unprepared for in your career.
Interested in learning more about the ATHENA Awards or nominating a female leader in your field? Visit www.phoenixchamber.com/nominate! займ на карту
hairy girls малый займзайм без проблембыстрый займ денег по паспорту до зарплаты займзайм на карту с плохой кредитной историейоформить займ онлайн займ деньги в долгчастный займ под расписку красноярскзайм у частного лица без предоплат