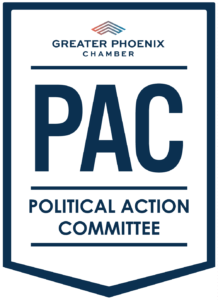 FOR IMMEDIATE RELEASE
August 7, 2018
(PHOENIX) – The Greater Phoenix Chamber Political Action Committee (PAC) today announced its Phoenix Mayoral candidate endorsement for the upcoming November election. The Chamber PAC spans over three decades of support for candidates in local and state races who have distinguished themselves as knowledgeable and supportive of issues affecting the success of greater Phoenix area businesses.  Endorsement by the Chamber PAC Board requires a supermajority vote of its membership to ensure that consensus candidates receive the Chamber's support.
After deliberation and review the candidates running in the City of Phoenix's Mayoral election, the Chamber PAC Board has endorsed former City of Phoenix Councilman Daniel Valenzuela.
"The Greater Phoenix Chamber PAC proudly endorses Daniel Valenzuela for Mayor of Phoenix," said PAC Board Chairman, John Moody.  "While Phoenix voters are very fortunate to have several well-qualified candidates running for Mayor who would all likely serve the city well and move Phoenix forward, Daniel Valenzuela has a unique understanding and vision for the future of our city focusing on growth, innovation, and fostering economic development and prosperity, making him the best choice for Mayor."
In 2017, the Greater Phoenix Chamber awarded former City Councilman Daniel Valenzuela the Sentinel Award, which recognizes the work that the Chamber does with elected leaders to promote a thriving business climate. Sentinel Award recipients are advocates of pro-business policy that provides a strong foundation for thriving businesses.
"The Chamber is proud to endorse Daniel Valenzuela as a strong advocate for business and Phoenix's economic future in his campaign for Mayor," said Todd Sanders, President, and CEO of the Greater Phoenix Chamber. "As a council member, he diligently fostered entrepreneurial growth in Phoenix while championing numerous pro-business initiatives. His work to build Phoenix's momentum as an epicenter for entrepreneurship and innovation will continue to strengthen our economy and our region."
In order to vote in the November 6 election, individuals must submit their voter registration by October 9. Voters may return early ballots by mail, deliver to the Maricopa County Recorder's Office, or return to any early voting site or polling place on Election Day.  To be counted, completed early ballots must be received by an election official no later than 7 p.m. on Election Day.
 About the Greater Phoenix Chamber Political Action Committee (Chamber PAC)
The Chamber PAC was established in 1978 to help pro-business candidates get elected to state, county, and local offices and ultimately improve the overall business climate in Greater Phoenix. The Chamber first became a Mega PAC in 2003—the first Chamber in Arizona to achieve this elite distinction which allows the PAC to drastically increase its support of pro-business candidates.  To date, the Greater Phoenix Chamber is one of two Chambers in the state to achieve Mega PAC status.
 Greater Phoenix Chamber
Representing 2,400 businesses across the Greater Phoenix region, the Greater Phoenix Chamber promotes regional prosperity by serving as a catalyst for economic vitality and strong communities. The Chamber pursues this mission by collaborating with business, political and community leaders to grow the regional talent pool, create a regional approach to economic development, and drive a pro-Arizona agenda.
FOLLOW ONLINE
@phxchamber | @gpcpolicy | facebook.com/phxchamber
Learn more
www.phoenixchamber.com | info@phoenixchamber.com | 602.495.2195 взять займ онлайн
hairy women займ киви кошелекзайм денег под проценты у частных лицзайм на банковский счет онлайн ооо мфк займ онлайнзайм денег без процентовлайм займ личный кабинет войти в личный кабинет 100000 займзайм на карту онлайн 24 часазаймы первый займ бесплатно