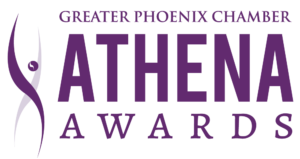 MEDIA CONTACT:
Janelle Tassart
(O): 602.495.6480
(C): 480.215.2149
[email protected]
FOR IMMEDIATE RELEASE:
August 13, 2018
(PHOENIX) – The Greater Phoenix Chamber today announced the 11 women chosen as finalists for its prestigious ATHENA Awards, continuing its strong tradition of recognizing outstanding Valley businesswomen.
The ATHENA Businesswoman of the Year Award recognizes a woman in the public and private sectors, in addition to highlighting an upcoming leader in the Valley as an ATHENA Young Professional.  ATHENA finalists are chosen for their excellence in business and leadership, dedication to the community and support and mentorship of other women.
The 11 finalists are:
Private Sector finalists:
Kathleen Duffy Ybarra, CEO/Founder, Duffy Group, Inc.
Letitia Frye, President & Founder/CEO, Letitia Frye, LLC
Jessica Pacheco, Vice President, State & Local Affairs, Arizona Public Service
Terry Roman, Partner, Snell & Wilmer
Public Sector finalists:
Melissa Holdaway, CEO, Arizona Charter Academy
Martha Martinez, Manager, Language & International Programs, Maricopa Integrated Health System
Tanya M. Muniz, Chief Financial Officer, Valley of the Sun United Way
Melissa Trujillo, President & CEO, Be A Leader Foundation
Young Professional finalists:
Audrey Monell, President, Forrest Anderson Plumbing and AC
Kado Stewart, Director of Programs, One n Ten
Terri Waibel, Owner, Psychotherapist, Grief Counselor, Center for Compassion
"We are thrilled to have an amazing group of finalists this year, each of who represent the pinnacle of success. We are proud to have such inspiring leaders in Greater Phoenix who are contributing to our community each and every day," said Todd Sanders, President & CEO of the Greater Phoenix Chamber. "Congratulations to all of our 2018 ATHENA Awards finalists."
The ATHENA Awards highlight women who have achieved the pinnacle of success within their industry, have mentored women throughout their career, and have dedicated their time to their community and making a difference in the lives of others.
Join the Greater Phoenix Chamber to celebrate outstanding businesswomen in our community and to support all nominees, finalists and recipients past and present.
WHO:              Three ATHENA Award recipients will be announced during 31st Annual ATHENA Awards luncheon.
WHEN:            Wednesday, Oct. 24, 2018 | 11 a.m. to 1 p.m.
WHERE:         JW Marriott Phoenix Desert Ridge | 5350 E. Marriott Drive | Phoenix, AZ 85054
REGISTER:   Register here | Registration closes on Monday, Oct. 15 at 5 p.m.
QUESTIONS: Email [email protected] or call 602.495.2182 for any questions.
HASHTAG:    #ATHENA2018
Finalist reactions:
"Being an ATHENA finalist means I am part of a legacy that showcases women and their contributions.  I am wired to be a "Connector" thus the mission of the Program "…helping individuals and organizations open doors of leadership opportunity to women" is part of my DNA.  From middle and high school-aged young women, college-aged women, emerging business women or C-level women executives; I see potential, make connections and contribute to our business community.  I am honored to be called to action and look forward to the ATHENA experience." — Kathleen Duffy Ybarra, CEO/Founder, Duffy Group, Inc.
"I have been asked if dreamers every really do sleep, and the answer is yes. We sleep, but only long enough to dream of the next opportunity to inspire and to help others. When I received the humbling news that I had been selected as a finalist for the ATHENA Award, I had to pinch myself to make certain I truly was awake, for this is one of the very opportunities I once dreamed about to help and inspire other women. If I can make it, so can she." – Letitia Frye, President & Founder/CEO, Letitia Frye, LLC
"I appreciate how the Greater Phoenix Chamber through ATHENA has empowered women, like me, and amplified our voice in our community.  I am honored and humbled to stand with and work with these women." – Jessica Pacheco, Vice President, State & Local Affairs, Arizona Public Service
"I'm humbled to be recognized alongside so many women that do so many incredible things for others, for their businesses and for our community.  There have been so many women that have helped shape who I am professionally and personally – I am a true believer in paying that forward.  It is not only my responsibility but my true honor to be a Visible Hispanic Female Leader that can contribute to a necessary cycle of women helping women." — Tanya M. Muñiz, Chief Financial Officer, Valley of the Sun United Way
"Being named an ATHENA finalist is truly an honor not to be taken lightly.  It is absolutely humbling to be recognized amongst such an amazing community of past nominees and recipients who all work tirelessly day in and day out to make Phoenix an incredible place to live." — Melissa Trujillo, President & CEO, Be A Leader Foundation
"I am honored and humbled to be recognized with all the finalists who embrace the ATHENA spirit. I am proud to represent women who work in trade industries and face daily challenges to prove we are capable of achieving high levels of success in a traditionally male-dominated field. Being named in the Young Professionals category is especially meaningful because it is a reflection of my mother's unwavering guidance, which emboldened me to reach great heights, inspire others and carry on her legacy. " — Audrey Monell, President Forrest Anderson Plumbing and Air Conditioning, Inc.
"I'm fortunate to have been shaped by the spirt of hundreds of strong women and courageous LGBTQ folks, who I've worked alongside, creating empowering spaces for girls, women and LGBTQ youth. As an ATHENA finalist, I'm excited to stand among many amazing individuals who have created great change in their various areas. My hope is to help guide conversations to encompass a wider understanding of gender equality." — Kado Stewart, Director of Programs, one•n•ten
"For me, being an ATHENA finalist means that grief and trauma have been given a welcome place at the table to start conversations about their meaning and importance.  As a legacy for my 3 daughters, I am honored to stand with some of the most inspiring, hard working, compassionate, authentic and powerful women within our Phoenix community."  — Terri Waibel, Owner, Psychotherapist, Grief Counselor, Center for Compassion
The Chamber congratulates all of the 2018 ATHENA Nominees:
Private Sector Nominees
Nicole Acevedo, MST Solutions
Latasha Causey, USAA
Michelle Cirocco, Televerde
Cathy Comer, PayPal
Amy Dale, Accenture
Carine Dieudé, Altima Business Solutions
Cynthia Dilts, Centaurus Financial Inc.
Kathleen Duffy Ybarra, Duffy Group, Inc.
Janine Durham, Cognizant Technology Solutions
Jessica Estrada, Grant Thornton LLP
Letitia Frye, Letitia Frye, LLC
Pam Giannonatti, Fry's Food Stores
Robin Hilgart, HILGARTWILSON, LLC
Jill Krigsten Riley, Cox Media
Jodi Low, U & Improved
Carol May, Wisdom Natural Brands
Lisa Moody, Renalogic
Peggy Neely, Neely Public Strategies
Jessica Noble, Tru Realty
Desirae Outcalt , Pacific Premier Bank
Jessica Pacheco, Arizona Public Service Co.
Linda 'Mac' Perlich, ON Media
Monique Porras, The Kempington Group, LLC
Sissie Roberts Shank, Chas Roberts Air Conditioning, Inc.
Terry Roman, Snell & Wilmer
Cheyenne Ross, Arizona Complete Health
Britton Sanchez, HomeSmart International
Doris Savron, University of Phoenix
Liz Shabaker, Versant Capital Management, Inc.
Jane Spicer, Daphne's Headcovers
Public Sector Nominees
Ashley Camhi, Arizona Sustainability Alliance
Dr. Rita Cheng, Northern Arizona University
Carrie Collins-Fadell, Brain Injury Alliance of Arizona
Lisa Doromal, Dress for Success Phoenix
Melissa Holdaway, Arizona Charter Academy
Deanna Jordan, Arizona Multihousing Association
Sara Marriott, PSA Behavioral Health Agency
Martha Martinez, Maricopa Integrated Health System
Tanya Muñiz, Valley of the Sun United Way
Dr. Janet Ortega, South Mountain Community College
Dena Patton, Girls Rule Foundation
Lisa Scarpinato, Kitchen on the Street
Kerryann Tomlinson, Playworks Arizona
Melissa Trujillo, Be A Leader Foundation
Maria Valenzuela, Esperança
Keely Varvel, Maricopa County Recorder's
Office & Elections Department
Sabrina Vazquez, University of Arizona
Dr. Kellie Warren, Florence Crittenton Services of Arizona
Young Professional Nominees
Sandra Castro Solis, American Civil Liberties Union of Arizona
Janelle Eberling, MST Solutions
Ashley LaRae Sampson, Mind Style Soul
Audrey Monell, Forrest Anderson Plumbing & Air Conditioning, Inc.
Breanna Naegeli, Grand Canyon University
Rita Rabbani, Ideas Collide
Jenika Raub, Salt River Project
Maacah Scott, Arizona Diamondbacks
Abigail Shirvinski, Nova Home Loans
Kristin Slice, Maricopa Small Business Development Center
Kado Stewart, 1N10, Inc. (One•N•Ten)
Rachel Tarman, Thomas Title & Escrow
Quinn Tempest, Quinn Tempest
Monica Trejo, Arizona State University
Terri Waibel, Center for Compassion
###
About the Greater Phoenix Chamber of Commerce
Representing 2,400 businesses across the Greater Phoenix region, the Greater Phoenix Chamber promotes regional prosperity by serving as a catalyst for economic vitality and strong communities. The Chamber pursues this mission by collaborating with business, political and community leaders to grow the regional talent pool, create a regional approach to economic development and drive a pro-Arizona agenda.
About the ATHENA Award
The ATHENA Awards, an internationally prized honor, recognizes the achievement of businesswomen across the Greater Phoenix region. ATHENAs are challenged across industries to continue their dedication to leading, serving and mentoring. The award highlights three women every year who are at the top of their field and who invest in their career, their community and especially other women. ATHENAs demonstrate inspiring leadership within their industry, mentor women throughout their career and dedicate themselves to the community.
About the ATHENA Young Professional Award
ATHENA International established an award to honor emerging young leaders in our community. The ATHENA Young Professional Award officially launched at the 2007 International ATHENA Leadership Conference and Phoenix was proud to be one of the first cities to present it within their community. These are the "women to watch."
Follow online:
@phxchamber
facebook.com/phxchamber
www.phoenixchamber.com/linkedin
www.phoenixchamber.com/youtube 
Learn more:
www.phoenixchamber.com займы онлайн без залога
срочный займ на карту онлайн мгновенный займ на картуе займ личный кабинетзайм в москве платиза займмикроклад займманимен займ планета кэш займзайм на карту первый займ бесплатнозайм фаст мани