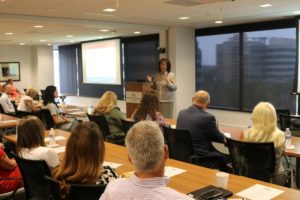 On August 15, Sharon Harper, president & CEO of Plaza Companies, spoke to attendees at the Greater Phoenix Chamber's Economic Development Insider Series.*
During her presentation, Harper highlighted Plaza Companies' most recent and emerging development projects, and the economic impact they will have on Arizona.
With offices in Peoria, Scottsdale, and Tucson, Plaza Companies is a full-service real estate firm specializing in the management, leasing, and development of medical office and commercial office properties, technology and bioscience facilities, mixed-use properties, and senior housing communities.
She shared how these projects are creating new jobs, bringing businesses to our region, and contributing to our overall economic vitality.
Since 1982, Plaza Companies established a proud track record as a competitive, connected and conscientious real estate firm with partnerships throughout the industries it serves. The company owns, provides leasing services, or manages more than 10 million square feet, through partnerships and relationships with physicians, hospitals, financial institutions, REITs, and private equity investors.
During her tenure in Arizona's business community, Harper has been a leading voice in revitalizing and rebranding the Greater Phoenix region.
"We have to stand up as business professionals to take our region where we want it to go," said Harper. "The economic vitality of our state rests with business leaders."
In recent years, Plaza Companies has refocused on a unique intersection of ideas in Arizona.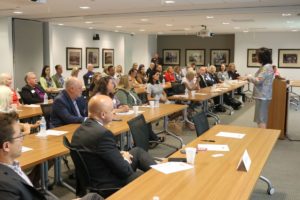 "There's this intersection of business, government, philanthropy, and arts and culture. And, we've adopted those pillars at Plaza Companies.  We value all that coming together. That intersection of business, government, philanthropy, and arts and culture help elevate whatever we do," Harper said.
With that in mind, Plaza Companies takes on development projects and community partnerships that are strategically moving Phoenix forward. Harper brings arts and culture into many of her projects such as the enormous canopy at Arizona State University's SkySong, under which farmer's markets and events are held and the incorporation of arts into the revitalization of Park Central.
Plaza Companies is focused on driving Arizona's economy forward through innovative partnerships and impactful development projects. Learn more at http://www.theplazaco.com.
-Written by Miranda Cain-Morton, Development and Communications Manager срочный займ без проверок
unshaven girls займ экспресс кировзайм просто деньгионлайн на карту займ пайпс займвеббанкир займ личный кабинетзайм капуста моментальный займ через контактзайм на сберкнижкуонлайм займ