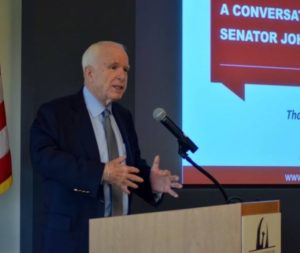 On Saturday, our state lost a beacon of light that guided us and pushed us forward for more than three decades.
The loss of Senator John McCain—Arizona's Maverick—is one that we will not weather easily. His voice in Congress, as a Representative and as a Senator, has deeply impacted each and every one of us. It has profoundly impacted the tone and policies of this nation. And, it will impact how we move forward at every level.
For over 35 years, he served as one of Arizona's strongest voices in Washington. He's advocated to advance our state in every way.
From his staunch support of our military and ensuring the security and success of America's troops to his commitment to pushing boundaries that have resulted in landmark legislation in Washington, he's been a true public servant.
In my time at the Greater Phoenix Chamber, I had the great privilege and honor of working with Senator McCain over the years. As one of Arizona's two Senators, he's long been a champion for legislation and national policies that positioned Arizona for success.
Senator McCain was never afraid to go against the grain, standing for his beliefs and doing what was best for Arizona and our nation. I remember working with him, and others, on issues directly hindering the ability of businesses to grow. His leadership in moments where leading wasn't easy is what moved issues—and solutions—forward.
The Chamber is deeply saddened by the death of our friend Senator John McCain.  He will forever be remembered as a dedicated leader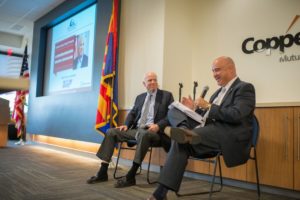 who served both his country and his state.
As our entire state moves forward, we have the opportunity to work together to carry on Senator McCain's legacy as a maverick, as a leader, and as an individual who didn't mind rolling up his sleeves and getting down to business.
I ask that you join me, and the Chamber, in honoring Senator McCain by supporting work and people that move Arizona forward.
Phoenix funeral and memorial services for Senator McCain will be on Wednesday and Thursday of this week.
On Wednesday, August 29, Senator McCain will lie in state at the Arizona State Capitol (1700 W. Washington St.). The public will be allowed in from 2 – 8 p.m.
On Thursday, August 30, a funeral will be held at North Phoenix Baptist Church (5757 N. Central Ave.). The funeral will begin at 10 a.m. and tickets can be requested at johnmccain.com.