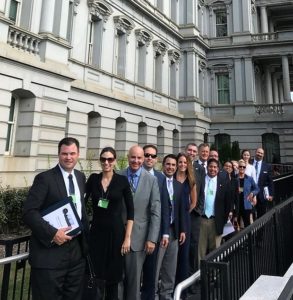 Earlier this month, the Greater Phoenix Chamber led a delegation of business leaders and community members to Washington, D.C. to discuss key national issues and their impact on Arizona at the local level.
The 2018 D.C. delegation focused on critical areas of policy. Federal leadership, including members of Arizona's Congressional delegation as well as representatives from the White House Administration, touched on each several policy areas and discussed possible solutions.
Trade  
Trade with Canada and Mexico represents a vital part of Arizona's economy. Arizona has a trade surplus with Mexico, exporting $9.1 billion in goods and importing only $7.6 billion. Additionally, Canada accounted for approximately $2.1 billion in exports in 2016.
The renegotiation of NAFTA was crucial to maintain economic vitality and the new agreement— the United States Mexico & Canada Agreement (USMCA)—is a step in the right direction. The USMCA provides assurances to the business community that these trade relationships are valued.
However, now the U.S. needs to address the crippling tariffs on exports. China, the European Union, Mexico, and Canada have already retaliated or announced plans to retaliate with billions of dollars in tariffs on American-made products.
This wave of steep retaliatory tariffs now threatens approximately $75 billion of U.S. exports.
It's time for the Federal government to discontinue the use of tariffs and ratify the USMCA, with any need changes, as soon as possible. This practice threatens to derail our nation's recent economic resurgence.
Interested in taking a deep dive into this issue? Learn more about trade and tariffs.
Immigration  
Another key issue that the D.C. delegation discussed with national leaders is immigration.
It is long past time for Congress to reform the country's broken immigration system. It does not work for invidiuals and it does not work for business.
Common sense immigration reform would boost economic growth, create jobs, and spur innovation and entrepreneurship. Moreover, it would renew America's legacy of being an open and welcoming country where anyone who works hard can achieve his or her dreams.
Unfortunately, Congress is considering proposals that would significantly reduce legal immigration. The Chamber opposes these efforts. Over a 10-year period, reducing legal immigration by 25% could result in cuts up to $2.01 billion on Arizona's GDP.
The Chamber urges members of Congress and the administration to support comprehensive proposals that would improve border security, provide a permanent solution to DACA, and institute bipartisan pro-business reforms to the immigration system.
Interested in learning more about immigration policy? Join the Chamber's Legal & Regulatory issue committee. Sign up today!
Education & Workforce
The Chamber advocates to enhance academic achievement and accountability at every level, and advocates for appropriate skill training that supports an effective workforce.
A critical piece of Arizona's education system, and the state's economy, is the higher education system. Due to the significant contributions of all three universities, the D.C. delegation spoke with Congressional members about the how they can support Arizona's local economic powerhouses.
The Chamber supports the continuation of the Higher Education Act (HEA), as well as improving financial aid programs and systems, including private sector innovations in higher education finance.
The reauthorization of the HEA is pending before Congress. The D.C. delegation urged Arizona's delegates to support the HEA and recognize its important role in furthering the state's economic prosperity.
Interested in learning more about Arizona's higher education system? Join the Chamber and the presidents of Arizona State University, Northern Arizona University, and the University of Arizona on January 11, 2018 for Valley Voices. Register online!
Infrastructure  
The need for a comprehensive infrastructure plan continues to grow. In Arizona, there are more than 2,900 transportation and logistics companies employing approximately 97,000 individuals. Further, Arizona's transportation system is facing a $63 billion funding gap. And, the state isn't alone. Many other states and cities across the nation are dealing with aging infrastructure and the need for new, 21st century roads.
Additionally, the Federal Motor Carrier Safety Administration (FMCSA) is considering sweeping regulatory changes. These changes include rulings on rate filings, management of rogue movers harming consumers and driver safety–and most recently, the hours of service rules that regulate professional drivers.
During conversations with leaders, the delegation learned that an infrastructure plan is in production, but leaders still need to determine the plan's funding mechanisms. Ultimately, a final plan will not be drafted until after the upcoming elections.
Interested in learning more about transportation and infrastructure policy? Join the Chamber's Transportation & Infrastructure issue committee. Sign up today!
During the four-day trip, the D.C. delegation participated in several productive meetings and forums, providing national leaders the opportunity to hear from Arizona's business and community leaders. This annual trip is a platform for the Chamber and its members to connect and elevate the local impact of national issues. кредит на карту