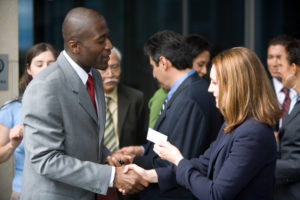 So, you're a member of the Chamber–, now what? Now, it's time to find your spot our organization and get connected with the events, committees, and programs that will best serve your business and your employees. Whether you're a new member or have been a part of the Chamber family for a while, it is a great time to see what is new and exciting, and get engaged!
With more than five monthly professional development and networking opportunities, more than 10 special committees that meet regularly, and 20 large-scale events annually, the Greater Phoenix Chamber has something for everyone.  Growing your network and your business is easier than ever.
Participate online
There are so many ways that you can connect with the Greater Phoenix Chamber, but the first step is making sure that your company and your company's representatives are getting all of the information they need.
Update your Chamber profile: Feel like you and your business are missing out on key information and updates from the Chamber? Then log in online and update your business profile. Let us know whom from your company we should be working with and update your newsletter preferences.
Sign up for our newsletters: The Chamber sends our members six monthly newsletters to keep them informed, connected, and learning. Find the newsletter that meets your interests and start receiving updates from your Chamber team!
The Greater Phoenix Chamber offers six issue committees through our Public Affairs department. The committees gather industry leaders, community leaders, practitioners, legal experts and lobbyists gather to evaluate legislation and regulatory matters, in order to make recommendations on the Chamber's behalf.
Agriculture, Environment & Water Issue Committee
Budget & Tax Issue Committee
Education & Workforce Issue Committee
Insurance & Health Care Issue Committee
Legal & Regulatory Reform Issue Committee
Transportation & Infrastructure Issue Committee
The Greater Phoenix Chamber also offers opportunities for members to participate in the Phoenix Health Care Sector Partnership. The Phoenix Health Care Sector Partnership (PHCSP) is a collaborative of health care leaders, educational institutions, and community partners dedicated to improving health outcomes for the community, strengthening the health system, and fostering expansions of health care companies that generate quality job opportunities. Learn more >
Dive into professional development and networking opportunities
After 5 Mixers
Economic Development Insider Series
Power Connect Luncheon
Small Business Master Series
Make a big splash at the Valley's premier business events
The Greater Phoenix Chamber hosts the foremost events in the Greater Phoenix region. No matter your need, the Chamber can connect you to an opportunity network, to learn, or to elevate your business. The Chamber is your connection in the Greater Phoenix region.
Through our strategic connections, the Chamber proudly hosts subject matter experts at a variety of events so that every professional can make meaningful connections that move their business forward.
Visit our calendar to attend an event.
Utilize Chamber business services
Business Retention & Expansion (BRE) visit: The BRE team conducts personalized business outreach visits and connects companies with the resources needed to overcome business challenges. Request a BRE visit >
Find Your PHX: Find Your PHX is an all-inclusive personal integration program to help you navigate your way around the Greater Phoenix region. With a qualified team of regional experts, the Chamber can help your new executive or leader discover the beauty that surrounds the city and the energy that propelled Phoenix forward.
Wellness AtoZ: Wellness AtoZ is making Arizona and the Greater Phoenix region known as a destination for healthy talent and a healthy community. Wellness AtoZ offers free modular toolkits and works with companies to build or enhance their existing wellness programs. It provides unique opportunities to network with businesses across the state and encourages active participation from the entire community with its biannual challenge, the Wellness Wonders of AZ.
payday loan займ саратовзайм под птс барнаулвебанкир займ займ в орлезайм для неработающихзайм на карту на 3 месяца займ под материнский капитал тюменьзайм онлайн срочно без отказаэкспресс займ онлайн на карту