The Foundation is excited to welcome two new team members to continue increasing the impact the organization has in the Greater Phoenix region.    Get to know the newest Workforce Development Manager and Marketing Intern. They will help expand the Foundation's efforts to address the growing skills gap in Arizona industries and prepare individuals for college and career!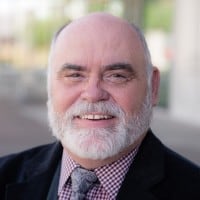 Workforce Development Manager – Build Your Future Arizona, Greater Phoenix Chamber Foundation
Paul Sanders has joined the Greater Phoenix Chamber Foundation this month as the Workforce Development Manager now overseeing the Construction Workforce Collaborative and the Build Your Future Arizona career awareness campaign.  Paul joins the Foundation with over ten years of experience in workforce development and industry partnerships, most recently at Year Up Arizona, where he collaborated with education partners and businesses to increase student capacities and drive successful internships for over 200 students and interns each semester. In his new role, Paul will focus on expanding the reach of the Build Your Future Arizona campaign, ultimately increasing career awareness to roles within construction and the trades while working to align education and training programs to the needs of employers.
"Over the past five years, I have been a part of a team serving 1,000 opportunity youth, providing them a runway to launch their careers. I have had the privilege of personally coaching 40 of these young adults into entry-level career positions and/or continued education. I have learned firsthand the struggles many of our young adults face in finding and pursuing a career path. Having grown up in residential construction, I know the essential role the trades play in our economy and the positive impact careers in construction have on individual families. It is vital to our state's economy for us to strengthen and increase the talent pipeline required to fill construction industry jobs here in Arizona. I'm proud to be joining the Greater Phoenix Chamber Foundation and being a part of the Build Your Future Arizona initiative."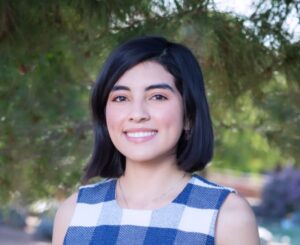 Ana Perez, Marketing Intern, Greater Phoenix Chamber Foundation
Ana joined the Foundation in July as the first Marketing Intern to support ElevateEdAZ.  She is a recent graduate and honor student of Camelback Montessori College Preparatory, an extension of Camelback High School.  Throughout high school, Ana was an active member of Distributive Education Clubs of America (DECA), a business organization,  where she accumulated multiple awards while also maintaining involvement in Be A Leader, STEP, and JV Cheer.  In addition to excelling in her school work, volunteering, and engaging in extracurriculars, Ana has maintained jobs in retail and customer service for the past three years.  As the Marketing Intern, Ana will be focused on building out the ElevateEdAZ Social Media platforms, bringing her expertise as a student into the work of the Foundation.  Ana plans to attend college on the east coast this fall, at the close of her internship.
"I know that Greater Phoenix Chamber has the best intentions for Arizona youth, and I am very fortunate to be interning with an organization that is so dedicated to serving the community and maintaining a healthy and strong future workforce. I am even more fortunate to be directly involved in preparing students for college and career. This internship opportunity is allowing me to attain professional and career-oriented experience before starting my freshman year of college, which can be relatively difficult to find. My involvement with ElevatedEdAZ is one of the many ways I intend on paying forward all of the support I received throughout my entire high school experience." кредит
unshaven girl деньги в займ на картузайм кредитзайм экспрес займ до зарплаты москвазайм на карту маэстро без отказа и проверки кизайм под залог в красноярске займ на карту с 19 летзайм в белореченскезайм на карту по фотографии паспорта