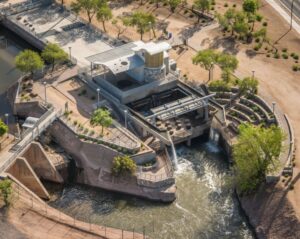 A growing workforce dedicated to leading the transformed energy sector. Expanded education in energy and STEM. More sustainable transit in the cities of the future. Improved water security via forest restoration.
Such research areas have already been part of a working relationship between SRP and Arizona State University, and the two have now formalized that with a strategic partnership announced in January.
That partnership will focus on developing energy solutions and stronger communities of the future, with a core goal of comprehensively addressing resilience and adaptation to climate change impacts.
SRP and ASU have worked together for more than 40 years to tackle issues facing the Phoenix metropolitan area, the state and the Southwest. The partnership is an expansion of that work in three areas: education and workforce, sustainability and technology innovation.
Workforce development is a key focus for ASU and SRP, two of the largest employers in Arizona. They have begun developing master's- and doctorate-level energy degree programs at ASU dedicated to transforming the energy sector. These degree programs will draw on interdisciplinary energy expertise in the fields of engineering, sustainability, policy, planning and applied economic analysis.
And to address this education at an earlier stage, ASU and SRP also plan to develop K-12 programs that emphasize on STEM-related career exploration and development. This initiative is designed to provide the resources of both SRP and ASU to enhance the quality of education in Arizona, with a focus on STEM, diversity and inclusion, and preparing for the workforce of the future.
Sustainability is another key area of the partnership. Highlights from the two organizations' work in 2020 include sharing findings from studies associated with accelerating fleet electrification and electric vehicle adoption in SRP's service territory and among the ASU community.
Statewide programs in water resiliency and water resource security are also among the partnership's joint sustainability initiatives, with planned support from other Arizona universities and community partners. As part of this, ASU and SRP plan to expand their research and understanding of forest restoration impacts on the hydrology and water balance of Arizona's watersheds.
In third area of focus, technology innovation, the partnership's initiatives look at how best to support the future design of power systems — including identifying and implementing low-carbon technologies such as solar, biofuels and hydrogen to further reduce carbon from modern electricity generation.
Both organizations will support each other in achieving their respective sustainability goals, and for SRP, its 2035 Sustainability Goals include aggressive measures to reduce carbon emissions, strengthen the grid to allow more customer choice and improve water resiliency. Working with the ASU community, and jointly arming the next generation of future-focused energy professionals, developing new technologies and findings, will help get there. The goal is for Arizona's communities to be better positioned than ever before.
гарантированный займ 1000мфо займ онлайнденьга займ на карту