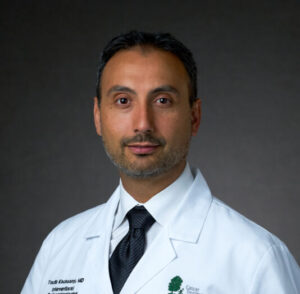 Written by Dr. Toufic Kachaamy, National CTCA Interventional Program Specialist and Medical Director of Interventional Gastroenterology, Endoscopy and Innovation at Cancer Treatment Centers of America in Phoenix
Colorectal cancer is the third most common form of cancer diagnosed in the U.S., with almost 150,000 new cases every year. In May, the U.S. Preventive Services Task Force (USPSTF) lowered the recommended age to start colorectal cancer screening from 50 to 45. According to the task force, the change could save thousands of lives.
The new guidelines also mandate insurance coverage for preventative screenings to cover those 45 and older, beginning in October, which will make colorectal cancer screening more accessible and affordable for millions of Americans.
With an estimated 12 percent of 2020 colorectal cancer cases diagnosed in people younger than 50, this change comes as welcome news. While deaths from colon and rectal cancers have been declining for several decades due to improved screening and treatment measures, deaths among young people have increased slightly in recent years.
Bottom line: early detection matters.
When detected early and treated appropriately, colorectal cancer has an approximately 90 percent five-year survival rate. For this reason, my colleagues and I strongly encourage patients to speak with their physicians about screening options and prioritize colonoscopies, particularly if they have risk factors such as family history of colorectal cancer.
A colonoscopy may sometimes intimidate patients, but the American Society for Gastrointestinal Endoscopy considers it the gold standard of colorectal cancer screening methods for its ability to view the entire colon and both detect and remove polyps in the same procedure. Its capacity to remove polyps before they turn into cancer differentiates colonoscopies from other screening methods as the only test that may help prevent colorectal cancer.
Enter the age of artificial intelligence (AI). As a gastroenterologist, I am newly empowered thanks to a pioneering ally in the fight against colorectal cancer that employs AI to help physicians detect polyps. It is called GI Genius™ and the hospital I call home, Cancer Treatment Centers of America (CTCA) Phoenix, is the first hospital in Arizona to utilize this system. Over the course of July, my team and I have successfully performed our first cases with GI Genius, the first and only AI system for detection of colonic polyps in the United States.
Though not intended to replace clinical decision making, GI Genius aids endoscopists in detecting colonic mucosal lesions (such as polyps and adenomas) in real time during standard white-light endoscopy examinations of patients undergoing screening and surveillance endoscopic mucosal evaluations.
About 10 million breast, colorectal and prostate cancer screenings were missed due to COVID-19, according to a study published in April in JAMA Oncology. While the term "social distancing" is now part of our normal vocabulary, please do not distance from your doctor or recommended screenings, including colorectal cancer screening.
Toufic Kachaamy, MD, a board-certified and fellowship-trained gastroenterologist, serves as National CTCA Interventional Program Specialist and Medical Director of Interventional Gastroenterology, Endoscopy and Innovation at CTCA Phoenix. To help people evaluate their own personal cancer risk, CTCA developed an online risk assessment tool. The five-minute evaluation provides an immediate comprehensive assessment of risk for the most common cancer types as well as personalized evidence-based screening and lifestyle recommendations.
For questions or more information please contact the CTCA Employer Relations Team at 877-CTCAEMP.