Written by Elena Burr, PR Chair at Young & Empowered Women
The Greater Phoenix Chamber's ATHENA Awards recognizes and celebrates the achievements of businesswomen across the Greater Phoenix region. This prestigious award honors women who exhibit superior leadership, are involved in their community, and build up other women through mentorship.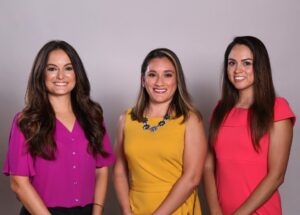 As the ATHENA Awards celebrates its 36th anniversary this year, three women–one in the public sector, one in the private sector, and one up-and-coming ATHENA young professional will be honored at the ATHENA Awards luncheon on Wednesday, November 15, 2023. The community can nominate impactful women by Friday, June 23rd, with applications due by Friday, July 14th. A selection committee panel will conduct interviews, and finalists will be invited to a video interview and photo shoot.
The ATHENA Awards process fosters a unique space that brings together powerhouse nominees representing various sectors from across the Valley. Honorees reflect the pinnacle of success within their respective industries, serve as formal and informal mentors to other rising leaders and dedicate themselves to important charitable causes and initiatives. Over the course of a few months, nominees get to know one another on a personal level, often providing support and sharing resources.
Inevitably, the gathering of determined women also serves as an informal think tank, offering the potential to launch new collaborations. So, in 2020, when ambitious changemakers Veronica Aguilar, Anna Carolina Ortiz, and Monica Trejo were selected as the three Young Professional finalists, sparks of innovation began to fly. From then on, their paths would become intertwined for the betterment of rising female leaders across the Valley.
During the 2020 ATHENA Awards interview and selection process, the trio forged a powerful friendship, bonding over shared experiences of overcoming systematic barriers in the workforce. Fortunately, they also shared a vision of breaking those barriers for the generation of women following closely behind. Knowing that together, change was not only possible but within reach, the three ATHENA finalists channeled their energies into the Board of Directors of Aguilar's newly formed Phoenix nonprofit, Young & Empowered Women (Y&E).
The organization is dedicated to providing professional development and networking opportunities to a diverse group of rising female leaders, making it the perfect avenue to push forward gender equity while maintaining the ATHENA pillars: leadership, mentorship, and community service.
"Thanks to the ATHENA network, we were able to expand the reach of Y&E to unforeseen heights by harnessing the power of our unique community connections," shared Aguilar, Founder of the organization. "We will continue to bring together women from various backgrounds, create mentorship opportunities, and partner with other value-driven organizations around a common goal: empowering women to reach their highest potential."
Now in its third year and serving over 130 members, benefits for Y&E members include access to a one-on-one mentor (like board members Veronica, Anna, and Monica), personalized soft and technical skill development, networking, individualized career assessments, and service opportunities. Their mission is to directly mentor and unite diverse women to achieve their personal and professional goals.
"The ATHENA experience has prompted so many great things in my life, key among them the opportunity for continued collaboration with Monica and Veronica, living out the ATHENA values as part of the board for Y&E," shared Ortiz. "Together, we are providing tools and skills to women in our community so that together we can more easily overcome systemic barriers hindering success."
The values of Y&E were first introduced in 2020, a time when networking and career coaching would be redefined. But despite the pandemic, in the past three years, members have been able to expand their networks, be introduced to powerhouse female leaders, and receive personalized skill development and coaching.
"Y&E is unique in that it values the growth and success of women across all industries. Each year the cohorts grow in size and diversity, and we look forward to expanding our reach even further in 2023," added Trejo.
In a collaboration that could have only been forged by the ATHENA Awards process, each day, the 2020 ATHENA Young Professional finalists continue to embody the ATHENA spirit by investing in emerging leaders across the Valley.
For more information about the ATHENA Awards and to access the nomination forms, please visit www.phoenixchamber.com/athenanominations or contact [email protected]. To learn more about Young & Empowered Women and to get involved, visit: www.yewomensassociation.com/
About the Greater Phoenix Chamber
Representing 2,400 businesses across the Greater Phoenix region, the Greater Phoenix Chamber promotes regional prosperity by serving as a catalyst for economic vitality and strong communities. The Chamber pursues this mission by collaborating with business, political and community leaders to grow the regional talent pool, create a regional approach to economic development and drive a pro-Arizona agenda.
Meet Veronica Aguilar
Veronica Aguilar is Vice President, Recruitment at Teach For America on the national recruitment team and the founder and chair of Young & Empowered Women. Veronica has a unique and diverse background in non-profit, mentorship, career development, service, K-12, and higher education.
Veronica received her MBA from W.P. Carey School of Business at Arizona State University to learn the business skills needed to be an even stronger advocate to others. As a proud Arizona native, Veronica works to improve the community by empowering women leaders as the founder of Young & Empowered Women.
Veronica is the 2022 ATHENA Young Professional recipient for the Greater Phoenix Chamber, 2023 Women of Impact Honoree for Dress for Success Phoenix, Valley Young Professionals Board Member for the Greater Phoenix Chamber, Chair of the Teach For America Arizona Alumni Board, and a member of the Young Professionals Council at Big Brothers, Big Sisters- Central AZ. Veronica is a recipient of the Blue Cross Blue Shield Empowering Diversity Scholarship, Arizona Panhellenic Graduate Scholarship, Hispanic Scholarship Fund, ASU Jennifer Hightower Greek Alumnus of the Year, and Teach For America National Transformational Change Award.
Meet Anna Carolina Ortiz
Anna Carolina Ortiz serves as the Founder and Principal Consultant at Ortiz Consulting. She is also the founder of the Arizona Global Development Network, which convenes the state's leading international development & humanitarian NGO's towards active collaboration and collective impact. Anna is a 2022 Sun Devil 100 honoree, a 2020 Phoenix Business Journal 40 Under 40 honoree, and a 2020 Phoenix Chamber of Commerce ATHENA Young Professional finalist.
Anna Carolina has a long history of experience in international development in rural Latin American communities beginning with her two years of service in the Peace Corps in Panama. She received a B.A. in Sociology from Arizona State University and a Masters of Public Health from the University of Arizona. Most recently she earned a Certificate in Nonprofit Executive Leadership from the ASU Lodestar Center for Philanthropy and Nonprofit Innovation.
Meet Monica Trejo
Monica Trejo is the Arizona State Director for the National Domestic Workers Alliance, an organization that supports and advocates for women and Domestic Workers. She is a daughter of a domestic worker and was born and raised in Arizona. She previously served as the Arizona Deputy Director of the National Association of Latino Elected and Appointed Officials where she provided professional development for elected officials from School Board to Congress.
She is also a Board Member for the Tempe Elementary School District and is the President of the Arizona School Boards Association which represents over 220 member districts and one million students. Monica is a former special education teacher and joined Phoenix Teach for America in 2012. She also worked at Arizona State University in Entrepreneurship + Innovation working with low- income youth across the nation and community members in social entrepreneurship. Monica is an active member of her local community, serving on the boards of Young & Empowered Women and Terros Health.
Monica graduated summa cum laude and ranked first in her program at Arizona State University with a Bachelor's of Arts Degree in Global Health, and earned a Master's in Special Education from ASU. She earned a second Master's degree in Education Leadership from Columbia University and is currently pursuing a Doctorate from Columbia studying Education, Leadership & Policy. She was recognized as Telemundo's Unstoppable Women "Mujeres Imparables," Phoenix Business Journal 40 under 40 and The Greater Phoenix Chamber 2020 Young Professional Athena Award Recipient.