A Twitter chat is a scheduled, organized conversation centered around a specific topic. It is a great opportunity for individuals and organizations to expand their networks as well as share their expertise on different subjects.
So how does a Twitter chat work?
The host will begin the chat with a question using the format "Q1, Q2, Q3, etc."
When you see a question you want to answer, reply using the number that correlates with the question using "A1, A2, A3, etc."
Use the hashtag for the chat so it is easy to follow along!
Interact with other participants by liking and responding to their answers.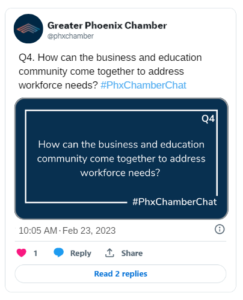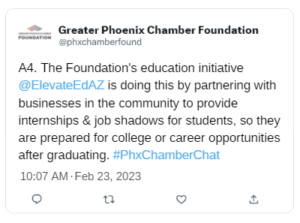 The Chamber's first Twitter chat will be on Thursday, February 23, from 10 – 10:30 a.m. (MST) focusing on workforce development. Join the conversation!
Twitter: @phxchamber
#PhxChamberChat