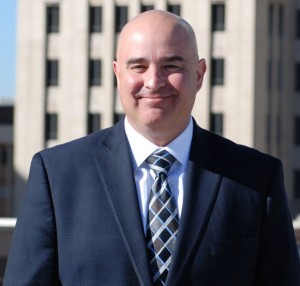 For the three years, we focused on growing our economy from within because we know that existing businesses create 80 percent of all new jobs.  With the 2015 launch of Phoenix Forward, we left the traditional "chamber" behind.
As we close out 2017, the Greater Phoenix Chamber of Commerce (GPCC) is advocating for our members and for our community at all levels to grow our economy.
Over the past three years, we have made strides across three key pillars that are at the very core of our work: economic development, public policy and workforce development.
Accelerating economic growth
Phoenix Forward was supported by local companies desiring to invest in the economic potential of Greater Phoenix. GPCC, in partnership with the Arizona Commerce Authority, Maricopa County and the City of Phoenix completed over 2,500 lifetime visits to businesses.
Recent findings from these visits are positive. Our economy is projected to grow. Roughly nine out of 10 companies anticipate increased revenue in 2018 with many of those companies making significant capital investments in our community.  What's even more impressive is that 98 percent of companies visited last quarter rate the business climate as excellent or good.
These numbers are good news for the economy, but growing businesses need more to thrive. Businesses need educational and networking opportunities for their employees. Last year, over 5,500 community members attended GPCC's events and programs, which provide a platform for professionals to connect and learn. We hope that you and your employees join us at our events for business in 2018!
Advocating for business  
A core pillar of GPCC is working with our state and local officials to support a regulatory environment that fosters growth and promotes business development.
With a top-notch Public Affairs team and a rigorous vetting process, we advocate for your business at every level of government. Last year, we supported legislation that prevented 1,700 businesses from being extorted out of thousands of dollars in frivolous lawsuits. In the past three years, 95 percent of Chamber-opposed bills were defeated and 97 percent of Chamber candidates were elected.
We believe that all business owners and professionals should be empowered with the knowledge and access to their lawmakers. We facilitate those connections through public forums such as Council Connections and our Annual Legislative Kick-Off Reception.
In 2018, we look forward to continuing to be YOUR voice of business at the state capitol!
Promoting regional prosperity
The Greater Phoenix Chamber Foundation (GPCF) leads the charitable and education objectives of GPCC and promotes economic prosperity and quality of life for the Greater Phoenix region.
The Foundation has already made significant strides in building a stronger community by launching Wellness AtoZ and developing our five workforce collaboratives.  
Wellness AtoZ aims to make Arizona and the Greater Phoenix region known as a destination for healthy living. Wellness AtoZ offers complimentary, turnkey health and wellness materials that can help any business add to or create their own wellness program.
Employer-driven collaboratives connect leaders in business and education with the goal of better aligning needs with education and training. The real result of this work speaks volumes and includes the launch of two industry-focused websites and a pilot program to train individuals for job certifications. Together, we are working to close the skills gap.
As GPCC closes the door on 2017, we look forward to opening the door for 2018. In the New Year, the Chamber team is embracing the dynamism of our economy, convening leaders in business, education and public policy to ensure that Phoenix is THE place to live and do business, and focusing on supporting businesses in ways that encourage innovation and growth.
In 2018, I hope that you and your business will join us in moving Phoenix Forward.