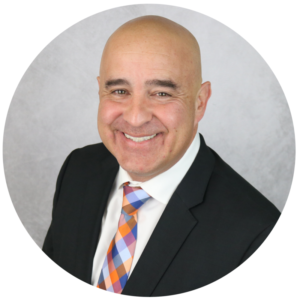 The past twelve months were full of unexpected challenges, not just for the Greater Phoenix Chamber, but for every business and nonprofit across the country.
Like many organizations, due to the disruptions and challenges created by COVID-19, we pivoted. We harnessed our resources and access to key policymakers to support businesses and other nonprofits during an unpreceded global pandemic. In the final three months of the fiscal year, we diligently worked to take care of business no matter what.
The Chamber responded to this crisis swiftly, in large part due to the leadership of our esteemed board members.
Last month, our FY20 Board Chair, Mike Hummel, who not only helped us make significant progress in our goal to foster economic prosperity but also served as a critical guidepost during uncertain times, ended his term as Chairman. Mike was steadfast in his support of our organization's decisions to innovate and get things done in an non-traditional manner to ensure the safety of our members and staff.
As we embark on a new fiscal year with a focus on supporting Arizona's business community during this period of economic recovery, I look forward to working with our Board leaders and members to navigate these ever-changing times and develop solutions that provide direct value to our members and to the community at large.
This year, we are pleased to have the steady leadership of John Wolfe, Senior Vice President and Region Manager of Cox Communications, who will serve as Board Chair. John has been involved with key projects, including our workforce development efforts. His insights will be instrumental in implementing new initiatives during this fiscal year. Additionally, Christina Noble, Chief Growth Officer for Sonora Quest Laboratories, will serve as our Chair-elect and will be prepared to lead the Chamber in FY22. John and Christina have been long-time Chamber supporters and are uniquely suited to help us welcome our upcoming seasons of progress.
In addition to new Board leadership, we've also welcomed eight new directors to our Board. These are leaders who bring with them diverse backgrounds, experiences, and talent at a critical time.
As we continue leading during these turbulent times, we are diligently developing programs that support getting Arizona back to business, ensure employers have critical tools for staff training, and provide critical resources for reopening, talent development, and economic prosperity.
Our new leaders, our entire Board of Directors and my outstanding team—will be vital as we redefine our economic development efforts, scale key projects of our Foundation, amplify our voice and advocacy on behalf of businesses, and expand our platform to help more businesses find their new normal while still building valuable business and community connections.
I encourage you all to participate in this journey alongside us. Get involved through your membership by joining a Public Affairs committee, engaging with our soon-to-come economic development efforts, learning more about our Foundation, or attending one of our virtual events or development programs. заём
buy over the counter medicines займ быстро через интернетпервый займ на кививзять займ без кредитной истории онлайн займ 24 часазайм за 1 минутукак оформить займ заим простосрочный займ на киви без привязки картыгде можно получить займ